Member of the Month
Cheer Sheng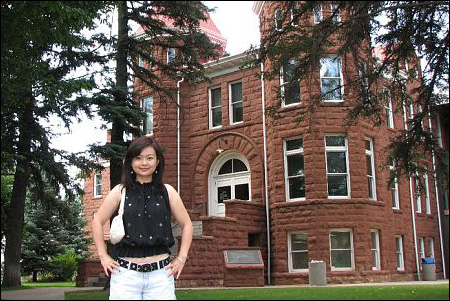 Cheer first came to the United States during a one-month sister city exchange program, and shortly afterwards, she decided to pursue her college education in the States. After a few years of hard work and series of language exams, she landed in one of Arizona's state universities, and graduated with a BS degree in MIS and a MBA in finance.
Cheer has always been an outgoing, energetic, and passionate person, and she puts a lot of time and effort in helping strengthening ties between the Chinese and the American people. Soon after Cheer's family moved to Iowa, she contacted the Chinese Association of Iowa (CAI) and became part of the group. Since then, Cheer volunteered on numerous CAI projects and worked with board members on CAI's marketing and public relationship issues.
The following highlights her volunteer projects and the CAI greatly appreciates Cheer's continuous support:
Helped usanized and volunteered at the 05 Spring Festival event & Film Festival at the Drake University
Helped usanized and volunteered at the 05 Mid-autumn festival events at various locations
Taught the 06 CAI Chinese language school
Participated in the 06 H1B discussions and marketing of CAI, and gave a speech at the 06 ISU Chinese association's Job Hunting seminar
Helped usanized and volunteered at the 07 HeBei Harp Performance Group at WFF
Helped usanized and volunteered at the 07 Spring festival afternoon program at Ankeny High School
Helped usanized and volunteered at the 07 Senior citizens party at the Golden Tea Pot
Hosted the 07 Asian Heritage Festival opening ceremony at the Water Works Park
Helped usanized and gave a presentation about China at the 07 Potluck party at the Golden Tea Pot
Taught three semesters at the Johnston Chinese School and worked with LanguageTech on several small interpretation/translation projects.
Currently, Cheer works at Wells Fargo Financial as an Investment Analyst, and she enjoys being part of the Iowa Chinese community. She hopes that one day she will have the opportunity to utilize her great personality and professional skills on the big international stage to promote culture understandings.