Member of the Month
Doua B. Lor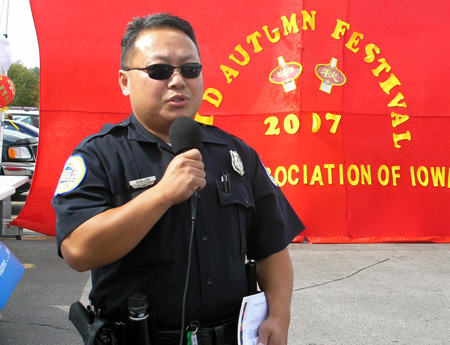 I was born in Laos on June 15, 1967, to Mr. and Mrs. Nao Cha Lor. I have one brother, Steven Lor. My father was a four star general working for the CIA during the Vietnam War. In 1975, Laos had a fall into the communist hand, forcing the military personnel that had worked for the United States to be exiled to another country. At this time, the military personnel were being shipped to numerous camps in Thailand as a temporary settlement. My family arrived in a camp called Ban Vienia. We lived in the camp as refugees until 1978. In 1978, many countries had opened their doors for the Lao military personnel. My father chooses to take my family to the United States to begin a new life and bring more prosperity to me and my brother. I came to the United States in 1978 when I was about nine years old. My family arrived in Fort Worth , Texas . I went to elementary, middle, and high school in Texas . After I graduated from high school, I went to work for about four years. I saved enough money and came to Iowa State University in 1990. I went to Iowa State University for about two years. I got married to Mr. and Mrs. Nao Tou Yang's daughter, A Yang, in 1995. I have two beautiful daughters name Padee Amanda Lor and Maider Lisa Lor and one on the way on Thanksgiving Day this year.
I am a Senior Police Officer working as an Asian Outreach Resource Officer for the Asian community in the Des Moines area. I speak five different languages (Hmong, Lao, Tai Dam, Thai, and English). I have been with the police department for 13 years. I served two years as a police cadet and 11 years as a police officer. I am currently working in second watch patrol. I spend half of my day on patrol and the other half as an Asian Outreach Resource Officer for the Asian community. As part of my Asian outreach program, my job is to provide an education program with a positive law interaction with Asian community and assist the Asian community and the police department with the communication barrier. I attend meetings and functional events with the Asian community. I provide programs to all school ages, churches, businesses, and usanizations.
I teach my fellow officers about the Asian culture during refresher training at the beginning of every year. This way, all officers will be able to be familiar with the Asian ways when they encounter each other on the street, home, or business environment.
My goal is to be a good role model for the Asian youth and the Asian community as a whole. I want to make a difference in whatever I do especially for the Asian community. I want to give as much as I can back to the Asian community and help the Asian community understand what I do.
On my days off, I love to take my family fishing and spend more time with the Asian community to help make it a better place to live.