Member of the Month
Gil Caldwell III. (Gao GeBo)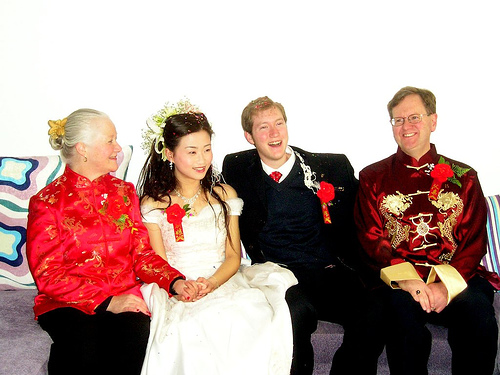 F rom left: Jeanne Caldwell, Yanan Caldwell, Kyle Caldwell, Gil Caldwell
My name is Gil Caldwell III. (Gao GeBo) I am an attorney in general practice, in the law firm of Caldwell, Caldwell, & Caldwell P.L.C. Our website is www.lawyeriowa.com I am married to Jeanne Caldwell (Gao JeNa) an orchestra teacher in the West Des Moines Schools. She is also working on her Doctoral Degree. My son, Kyle, (Gao KiYi) is married to a wonderful girl, Jiang YaNan, from Yucheng, Shandong Province. They run an English Language School near Qingdao.
The members of the Chinese Association of Iowa have been a valuable resource for us in understanding the culture of our new extended Chinese family. In addition to cultural tips, we appreciate the friendship and advice of the Iowa Chinese community in providing information on low cost phone calls and airfare to China. I am very proud to be a part of such a Great Association!
I have had the pleasure of assisting the Association and its members with numerous legal matters. I have presented a seminar on "Preventative Law" to help members understand some basic legal issues that may assist them in avoiding major future legal problems. Thank-you all for your advice, understanding, acceptance and friendship!