Member of the Month
Lily Lijun Hou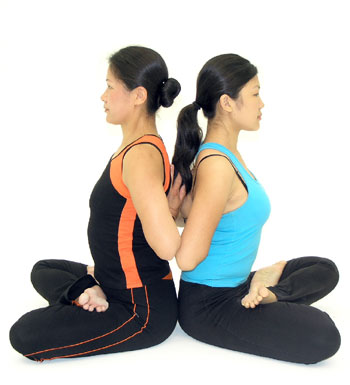 Lily Hou (left) and her daughter Grace Liu
Lily L. Hou is the owner of Green Yoga House (www.greenyogahouse.com) located at 14507 Hickman Road, Urbandale. In addition to this central location, Green Yoga House also offers community yoga classes at Clive Events Center, downtown lunchtime yoga class in the skywalk at 601 Grand Avenue, and corporate classes for Iowa Events Center at Hy-vee Hall. Green Yoga House has been the fastest growing yoga studio in Des Moines area for the past three years. Currently it offers 15 classes weekly to serve around 100 regular clients.
Lily has a Bachelor's Degree in English and a Master's Degree in American Literature. She began her private yoga practice in mid 1990s when she was working as a constituent services liaison at Governor Graves' Office in the state of Kansas. She quickly discovered the transforming benefits of practicing yoga and developed a strong passion to learn more about this ancient heritage.
In the last five years, she has had the privilege to be trained by some renowned yoga masters on various styles such as Ashtanga Yoga, Anusara Yoga, Kundilini Yoga, Jivamukti Yoga, Power Yoga and more. In 2003, Lily formally launched her private yoga/pilates studio named Yoga With Lily. As a result of her studio's fast growth, Lily recently set up a new company Green Yoga House LLC which started operation at the new location on Hickman in October, 2006.
As a certified yoga instructor, Lily is known to teach with an eclectic blend of many styles. She uses her extensive knowledge of body alignments and exercise safety in designing her classes. She is loved by her clients for her creative sequencing and safety progression of yoga poses weaved throughout her classes. She designs and presents each of her classes uniquely, and always offers options to meet individual needs. Lily approaches her classes with enthusiasm, compassion and respect for each client.
Lily actively participates in and contributes to various professional and social usanizations. She is a member of several national yoga associations, and a business member of Chinese Association of Iowa, Iowa Asian Alliance and Women's Reciprocity Group of Des Moines. Lily donated entire proceed from one day class to Red Cross in 2005 for hurricane Katrina relief thanks to her clients. In 2006, she donated to Cornerstone of Hope Orphanage to help build an orphanage facility in Benin City, Nigeria. She also offered financial support to Heartland Youth Choir of Des Moines and Chinese Association of Iowa.
Lily is an active volunteer for a few local usanizations such as Iowa Asian Alliance and Chinese Association of Iowa. She served as the hostess for the 2006 Chinese New Year Celebration. She was invited to participate in the Health Fair in City Group and Catholic Dioceses of Des Moines, and served as a guest speaker at Catholic Dioceses of Des Moines and the Women's Reciprocity Group of Des Moines.
Lily lives in Urbandale with her husband Albert Yongsheng Liu and her three wonderful yogi daughters, Shana, Nina, and Grace, ages 6, 12 and 18.