Member of the Month
Lisa Ehrle
Lisa, Maddy & Abby Ehrle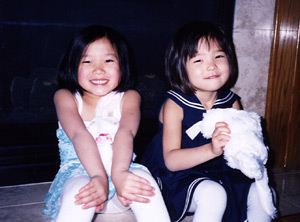 On my birthday, March 14, 2002, I received my most treasured present ever — the referral of my daughter Lou Yu Zan (now Madeline Avril Yuzan) from Loudi in the Hunan Province of China! Maddy is now 6 and anxiously anticipating first grade (but first — a long, swim-filled summer).
Her little sister Abby is 3 and adopted from Kazakhstan through Gift of Love. I wish there were a comparable Kazak Association of Iowa for her, although she loves playing with her Chinese friends.
I've been an advertising copywriter for 20 years (yikes); I'm currently employed at Performance Marketing in West Des Moines, www.performancemarketing.com and moved back to Des Moines from Chicago on that same day I received Maddy's referral five years ago.
We really appreciate all that the Chinese Association of Iowa has done for our family, especially giving Maddy some ties to her cultural heritage. Thank you for the numerous festivals you put on, Chinese Camp and more. And thanks to Swallow, Shannon and the Golden Tea Pot and everyone else at CAI!