Member of the Month

See Rodari Honored as One of the Most Outstanding Community Activists in Iowa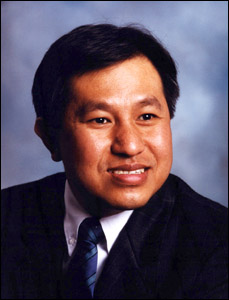 On Thursday, February 1, See Rodari of Bankers Trust was honored as one of the four finalists nominated for the Iowa Star, an annual award given by the Des Moines Register to the most outstanding community activist in Iowa.
"It's a great honor for all Asians," said Swallow Yan, executive director of the Chinese Association of Iowa (CAI).
As a teenager, See Rodari moved from Thailand to the United States to attend college. After graduating with a degree in accounting, he came to Des Moines to apply for an auditor position at the state capitol. The interviewer told him something he could never fuset: "People like you will never, ever work here."
Like many new immigrants, See was ready to accept that as reality. He turned to the Des Moines Register to apply for a janitor position. Impressed with See's credentials, the new interviewer suggested that he apply for a financial position at Bankers Trust. See did and got hired as a reconciler. He stayed with the bank ever since.
Many years later, See began to realize that he could avail himself of his rights as an immigrant. Once awakened, he felt compelled to tell other Asians about those rights. For over 28 years, See helped found the Iowa Asian Alliance, usanized the first Asian Heritage Festival and initiated the Health and Career Fair for Asian youths and their families. As a member of the Title Guarantee Board of the Iowa Finance Authority appointed by former Governor Tom Vilsac, See raised money to provide for the needs of low and moderate income families. As Vice President and consumer services manager of Bankers Trust, he has helped many Asians build up their businesses. In recognition of his outstanding achievement, the Iowa Asian Alliance named him Person of the Year in 2005.
A trusted advisor for CAI, See has always given a firm hand of support to the Chinese community. He was the first person to promote the Chinese New Year in Iowa. Many years back, long before the Chinese community even took shape, See started inviting families and children over to his office to celebrate Chinese New Year, offering them money in red envelopes and holiday delicacies. Effectively, Bankers Trust became the first usanization to recognize the Chinese New Year. The bank has also given consistent financial support to the Chinese community.
Though a key founder of the Iowa Asian Alliance, See has kept a low profile by backing out of his leadership roles in the IAA and in the Thai Association, thus paving the way for younger people.
"Good leaders should bring about good leaders," See said in a recent interview.