Member of the Month
Shannon Haus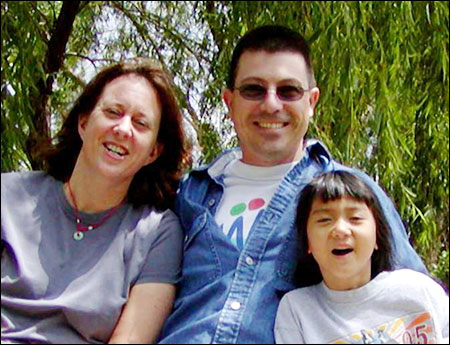 My name is Shannon Haus. I am a middle school teacher in Des Moines. I have also been working on a MPA in Nonprofit Management, and will complete this degree in March of 2007. My wife Jill has owned and operated a successful medical transcription service for the last 15 years. She also has an artistic flare with arts and crafts. For the past year she has been making Chinese style necklaces, bracelets and jewelry and donating the proceeds to different charities which help orphans in China . Her website is www.redthreadtreasures.com. In addition, she has decided to take on the challenging but wonderful task of home schooling our fantastic daughter Kati.
My wife Jill and I adopted Kati Mei Xiaokai Haus five years ago from Wuchuan SWI in Guangdong Province, China, and are in the process of adopting a mei mei for Kati through Gift of Love. We have been extremely blessed with kindness and support from the Chinese community over the last several years. Additionally, we have enjoyed watching Kati grow and make new friends in the community.
We have built fantastic friendships and have found support and kindness within the Chinese community. Our hope is that the association will continue to grow and prosper and in so doing provide greater opportunities for all Chinese children.
We would like to thank the Chinese Association. The opportunities and acceptance within the Chinese community is something our family deeply appreciates and treasures.
Thank you!