Member of the Month
Sunny Zhijun Xu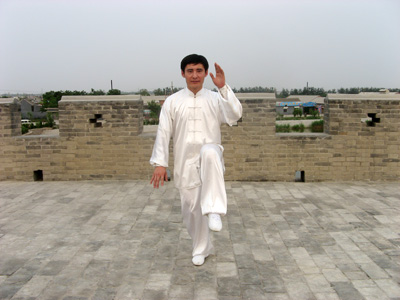 Sunny (Zhijun) Xu is a native of Shijiazhuang , Hebei province, the sister state of Iowa in China . In the past September, he came to Iowa to join his family. Back in China , Xu had been an associate professor of Comparative Literature at Hebei University of Science & Technology, and he is also a member of the executive council of Hebei Translators' Association. His life is featured with continuous learning and teaching. He got his Master's degree of English Literature and Linguistics from Hebei Teachers' University, continued his study of comparative literature as a visiting scholar at Beijing University for one year and at Nottingham University , UK , for another year. After that, he began his doctoral work of comparative literature at Nankai University in 2005 and now is concentrating on writing his dissertation.
Once coming to Des Moines in September, 2007, Sunny Xu began involving himself actively in various activities by Chinese Association of Iowa---translating documents, writing articles, collecting posters for 2008 Chinese New Year Poster Design Contest, etc. He and his family members( Dongmei Bao, his wife, and Chongchong Xu, his son) took an vigorous part in "Kids Against Hunger" program as volunteers and succeeded in reaching the intention to offer financial support to the population of poverty of Kuancheng County , Hebei province, from Holmes Auto Group. Due to his highly effective work, Sunny was appointed commission officer of CAI and nominated for "Person of the Year," an annual award given by Chinese Association of Iowa.
Besides being a scholar, he also carries forward the Chinese tradition that an accomplished man should be adept with both pen and sword. Under the guidance of this concept, he began to practice Shaolin martial arts as a young boy. In 1996, he went to Guangfu, the birthplace of Traditional Wu-Style Tai Chi Chuan, and became a formal disciple to Mr. Zhong Zhenshan, a grand master of the fifth generation. Now he is one of the successors of the sixth generation of Traditional Wu-Style Tai Chi Chuan and senior Tai Chi Chuan instructor of Beijing Yi-Ri Association for Eastern-Western Cultural Exchange.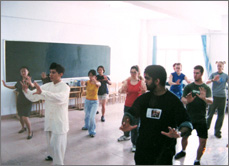 Sunny takes Tai Chi Chuan as a philosophy, a way of thinking and living, and Tai Chi Chuan practice is a process to find and follow the essence of nature, a way to freedom. Tai Chi Chuan is the crystallization of Chinese wisdom and the embodiment of Chinese philosophy, and thus to practice Tai Chi Chuan is an effective way to access Chinese culture.
Sunny Zhijun Xu has already started his Tai Chi Chuan class. You are warmly welcome to join him.
Time: Monday: 5:30-6:30 PM , Friday : 7:00-8:00 PM
(You are welcome to contact us anytime and we'll try our best to meet your needs.)
Location: The Chinese Community and Cultural Center at Golden Teapot, 2520 Vine St., West Des Moines, Iowa 50265
Registration: Email: Goldenteapot.wdm@gmail.com, Zjxu66@yahoo.com (Sunny Zhijun Xu)
Phone: 515-327-1818