Member of the Month
Will Zhang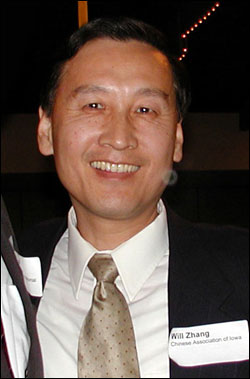 Will Zhang has been actively involved in the activities of the Chinese Association of Iowa for years. He had served on the CAI board from 2003-2004, and his family has a life-time membership with the association. Will also helped coordinate the Chinese New Year celebrations at DMACC Ankeny Campus in 2004 and 2005, as well as the Mid-Autumn Festival celebrations at the DMACC West Campus in 2003.

Besides being active in the CAI activities, Will Zhang also has been volunteering for the Iowa Sister States (ISS) for many years. First, he assumed an interim Chair position of the ISS Hebei Committee in spring 2000 and has been chairing the committee since 2001. During the past six years, he has helped coordinate many exchange projects with Hebei Province and its neighboring cities, Tianjin and Beijing. Among the cultural projects are the children ensemble from Tianjin Children's Palace, the performance troupe from Shijiazhuang, and a high school dancing troupe from Beijing. He also helped implement many projects in education, economy, and other areas.
Currently, Will Zhang teaches English and a course on the Chinese culture at Des Moines Area Community College Ankeny campus. He joined the DMACC faculty in spring of 1998. Before that, he had his graduate studies in the U.K. and the U.S. having earned his master's degree in 1993 and his Ph.D. in Pennsylvania in 1997. From 2000-2001, he had been chairing the year-long celebrations of the China Year at the College's five campuses.
Will Zhang is proud of being a member of the Chinese community in Iowa. He is happy to make his humble contributions to the understanding between the local Chinese community and the other communities in Iowa and between Iowans and the people of China.
Will is also the founder of this private business, Will's Translation, which focus on the English-Chinese translations (written & oral), cultural reviews; consulting on business investment in China, and travel arrangements in China.